Bitcoin Could See 10% Jump, As Volatility Drops To 18-Month Low


After its third-largest weekly fall in over a year, the Bitcoin (BTC) price has finally began to rise. BTC's price has effectively rebounded from the important support level of $37,500, despite an impending Federal Reserve rate hike.
Bitcoin Poised For 10% Jump
Various analysts, like The Wolf of All Streets, Michael van de Poppe, and PlanB, are bullish on the bullish trend, with the Bitcoin price currently holding above $39,000.
In a tweet on May 4, on-chain data provider Santiment published historical data showing a 20% rally as a result of BTC transactions is negative at the same levels between February 16 and 22. The week's Bitcoin Ratio of On-Chain Transactions Volume in Profit/Loss statistic is the third largest capitulation in a year.
As technicals improve, several analysts and traders forecast a price increase in the following days.
Michaal van de Poppe predicts that the price of Bitcoin (BTC) will rise from current levels. He stated,
"Bitcoin starts to look way better at this stage. Odds that the event tonight is a 'Sell the rumour, Buy the News' event are increasing."
A prominent crypto trader, The Wolf Of All Streets, predicted a rebound in Bitcoin price as it breaks above the trend line. A big rise could be anticipated if the BTC price stabilizes over $39,000.
Bitcoin On-Chain Transactions Volume. Source: Santiment
According to PlanB, the original $55K S2F model, which was released in March 2019, appears to be tracking the Bitcoin price trend. He also expects Bitcoin to rise in value.
The price of Bitcoin (BTC) has regained over 5% in the previous 24 hours, stabilising near $39,000. Whales continue to accumulate at dips, resulting in a huge increase in trading volume. Furthermore, the BTC has avoided a drop below the critical support level. It suggests that a rally could happen in the next several days.
Suggested Reading | Bitcoin Briefly Tops $40,000 As More Countries Adopt Crypto
BTC Trades Sideways
BTC has been trading sideways over the past few days, with the price dropping below $40,000 on April 26. Although, after reaching the swing highs near $48,000, the price has already begun to drop. BTC retreated and lost 45 percent of its value. BTC sellers, on the other hand, are weary as the price trades sideways in a narrow range since April 25.
B
BTC/USD trades sideways. Source: TradingView
A daily close below the session's low, on the other hand, would disprove the bullish price assumption. In that situation, $36,000 would be the lowest point on the downside.
BTC/USD is currently trading at $39,874, up 5.63 percent for the day as of publishing time. According to CoinMarketCap, the first cryptocurrency by market capitalization has a 24-hour trading volume of $35,528,442,016.
Suggested Reading | Will Bitcoin Shoot Over $40,000 — Or Drop To $35,000?
Volatility Drops
Bitcoin's historical volatility is at 18-month lows, according to statistics released by the Buy Bitcoin Worldwide webpage. Its anticipated 60-day average value fell to 2.62%.
Bitcoin (BTC) volatility was last this low in November 2020, when the orange coin broke through $10,000 for the first time in this bullish cycle.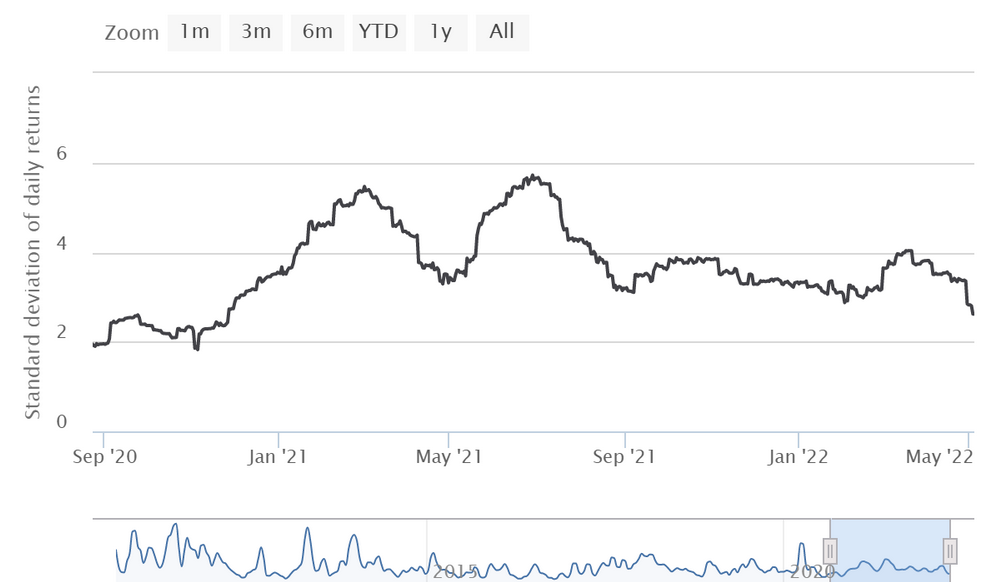 Image by Buy Bitcoin Worldwide
On April 27, 2022, thirty-day volatility reached a local low, but it is already showing signs of recovery.
The Bitcoin Volatility Index (BVOL), similar to the stock market's VIX, shows how much Bitcoin's price changes on a given day in relation to its previous price.
The most recent increase in Bitcoin (BTC) volatility occurred in July 2021, when the flagship cryptocurrency was twice as volatile over a 30-day period as it is now.
Featured image from Pixabay, chart from TradingView.com